FREQUENTLY ASKED QUESTIONS
Below are answers to a range of questions you might have about Indigo Hub and our ADHD coaching services. If the answer to your query is not found below, please do not hesitate to get in touch via the chat "Pick My Brain" box or the form at the bottom of the page.
WHAT IS ADHD LIFE COACHING?
---
ADHD life coaching is practical life coaching with a focus on ADHD that's provided by professionals who are trained to bridge the gap between the barriers that present along with it and various aspects of daily life. In general, an ADHD life coach who can be perceived as a partner would teach you the implications of the ADHD brain, coping skills and actionable solutions to challenges to help you gain composure and control over your mind.
---
DO YOU TAKE ON INTERNATIONAL CLIENTS?
---
Yes, we do. Indigo Hub provides its services to clients from all over the world.
---
WHOM DO YOU COACH?
---
We provide coaching for children and teens with ADHD, parents with kids who have ADHD, young adults, and couples (including non-ADHD partners).
---
HOW CAN ADHD LIFE COACHING HELP ME?
---
Our coaching partnership can help you shift your perspective and create lasting change. ADHD life coaching can provide you with the assistance required for tapping into your greatest potential. Collaborative coaching helps to draw your strengths and channel your best assets.
---
HOW DOES COACHING TAKE PLACE?
---
For now, coaching is provided virtually through video conferences. This enables you to utilize the service provided from the comfort of your home.
---
HOW OFTEN WOULD I MEET WITH MY ADHD LIFE COACH?
---
This depends on your preference and the program you select.
To give you a little overview, the one coaching session is provided every week (2 weekly sessions + 1 monthly joint session is applicable only for the family coaching package) for the duration of the chosen coaching plan. We could discuss the specifics over the free consultation session.
---
HOW MUCH DOES ADHD LIFE COACHING COST?
---
The fees vary and depends on the program you choose.
You will be briefed on the cost structure for the coaching packages we provide during the initial coaching session.
---
HAVE YOU RECEIVED ADHD COACHING TRAINING?
---
Yes, I am a Certified ADHD Life Coach (CALC) and received training from the iACTcenter which is approved by the International Coach Federation (ICF) - the coaching industry's governing body.
I immersed myself in ADHD coaching training to guarantee that I am formally qualified and well-versed in the best strategies to adopt while coaching different individuals with ADHD.
---
DO YOU HAVE PERSONAL EXPERIENCES WITH ADHD?
---
Yes, I was diagnosed with ADHD in my 20's.
Having struggled with ADHD my whole life, I am extremely familiar with how it manifests in daily life and how to pull positives from it. You can read more about my experience in the "Meet Natasha" section on the website.
---
WHY SHOULD I CHOOSE INDIGO HUB?
---
My goal is to help you thrive by working WITH your ADHD brain rather than against it. The aim is to convert the chaos to calm using strategic systems. Once you set the tone and pace of your coaching plan, I will provide you with the support you need to get through your journey and reach the end goal.
As I have ADHD, I understand how things may seem for you and the implications that follow. I am also certified to provide ADHD Life Coaching and qualified to provide the most optimal services for clients. As a result, you will draw benefit from both, my personal experience with ADHD as well as my expertise on effective ADHD management strategies.
---
WHAT ADHD COACHING PACKAGES DO YOU PROVIDE?
---
I provide a 1-month, 3-month as well as 6-month coaching package.
Each package comes with a list of standard services including:
A 45-minute weekly scheduled coaching session. For the family coaching package, there's an exception; It comes with 2 weekly sessions (one with the child and one with the parent) and 1 monthly joint session (with the parent and child)
Accountability check-ins via WhatsApp
Weekly "Growth Work"
Your folder that compiles all resources from sessions
In addition to these standard services, free additional services are also included, depending on the coaching package that you select. We can discuss the specifics during the initial session.
---
HOW CAN I GET STARTED?
---
You can book a free initial coaching session with me to get started.
During this 20-minute session, you can express what you need help with, your challenges and the point you ideally want to get to. Being your coach, I will then paint a clear picture of what you can expect from me and how you may be assisted. After this session, you can decide whether the service is right for you.
---
HOW LONG ARE THE SESSIONS?
---
Each coaching session will last 45 minutes.
The free initial consultation is 20 minutes long.
---
WHAT HAPPENS IF I DON'T ARRIVE FOR THE COACHING SESSION ON TIME?
---
If you are unable to make it on time to your session and run more than 15 minutes late, the session may be forfeited but charged for, regardless.
Please do notify me beforehand if you could be running late. Depending on the reasoning, I can try to reschedule the session.
---
WHAT HAPPENS IF I MISS A SESSION?
---
We understand that life can happen; you may get busy, go on vacation or have emergencies come up. If that's so, please notify me at least 24 hours in advance before the start time.
If a notice is not provided 24 hours in advance, your session may be forfeited or rescheduled, depending on the reasoning. If you can notify me beforehand, we can work out a more convenient time for sessions that fall on vacation days or holidays.
---
HOW DO I MAKE PAYMENTS TO YOU?
---
When making payments, you can opt for a direct bank transfer using any major credit/debit card or pay via TransferWise.
---
WHEN DO I NEED TO MAKE PAYMENTS FOR THE COACHING SESSIONS?
---
If you choose the 1-month package, the full payment for the month is to be made upfront. If you opt for the 3-month or 6-month package, you could either choose to make monthly payments (all at the original price) or consider the upfront payment option (eligible for discounts).
Monthly payments are to be made at the agreed date according to the coaching agreements. Exact fees and further details will be discussed during your initial coaching session.
---
CAN I CONTACT YOU IN-BETWEEN SESSIONS?
---
Yes, of course! Email or WhatsApp may be used for any quick discussions.
Please be mindful of time zones and wait up to 48-hours for a response. Also, take note that the accountability check-ins are usually done via WhatsApp, in between sessions.
---
HOW PRIVATE WILL OUR SESSIONS BE?
---
Our coaching partnership will be strictly confidential.
You can be guaranteed that your information will not be shared with anybody outside of the sessions.
---
ARE YOU READY FOR COACHING?
---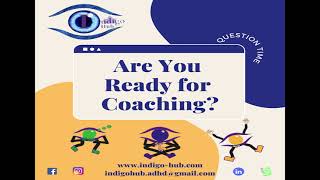 ---
---
HAVE WE NOT ANSWERED YOUR QUESTIONS?
Check out our FAQ Friday Social Media Posts or get in touch using the "Pick My Brain" chatbox .
FIND OUT WHAT OTHERS SAID...
"Having a coach who has ADHD herself, and gets our struggles, has been a gamechanger. Tasha understands that the usual Neurotypical methods of productivity won't work with me, and instead focuses on my strengths and the accommodations I need. Tasha really empowered me to put in place new habits and routines that I've been trying and failing to implement for years, and she never shamed or judged me for quirks or struggles. Instead she helps me find workarounds and encourages me to try new approaches until something fits! I highly recommend ADHD coaching through Tasha at Indigo."
J.H., Young Adult Coaching Client
Click on a thumbnail below to explore more on the Indigo Hub journey and our services.
If you would like to know more about our services, reach out to us by filling in the contact form below and sending in your enquiry.